Produktinformasjon
Wacom Cintiq 27QHD Pen only
The Wacom Color Manager help take the mystery and complexity out of color management. It makes sure that colors on your displays and in your finished work reproduce exactly as you intend and look true-to-life on all your devices.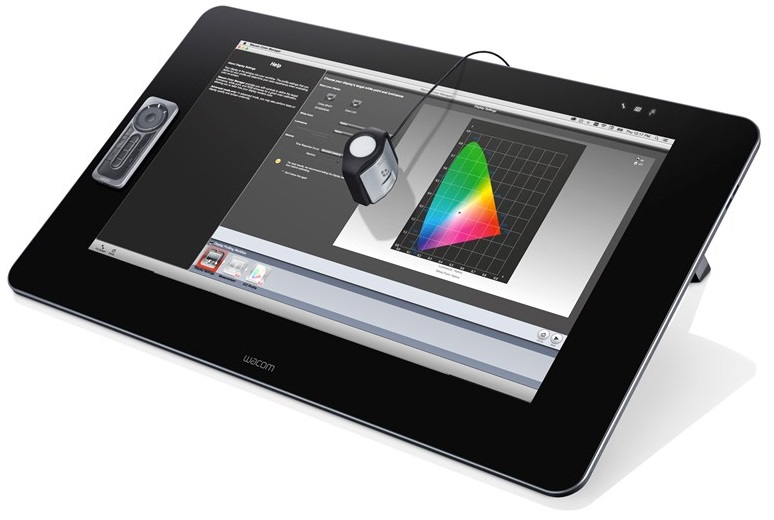 ---
The new Cintiq® 27QHD and Cintiq® 27QHD touch creative pen displays by Wacom.
Tools transform, artistry remains.
Get ready for the next phase of the Cintiq evolution: Experience professional creativity in new, breath-taking dimensions on a 27'' display - with crystal clear resolution and true-to-life colour, as colour comes to life with 1.07 billion colours and 97% of Adobe® RGB colour space. Creating on-screen is natural, intuitive and fast using the Wacom Pro Pen and multi-touch*. No doubt, Cintiq 27QHD revolutionizes the art of creating digitally.
Crystal Clear - high screen resolution and expansive work surface
Without any physical or visual disruptions to the work surface you'll enjoy space and freedom for your creativity. Both Cintiq 27QHD displays feature a 27'' 2,560 x 1,440 seamless edge-to-edge glass screen with an extra wide viewing angle, which enables you to create rich-detailed large-scale work - naturally, intuitively and directly on-screen. And as the large screen is made of glass, you can even use felt nibs, which give you a more tactile pen and paper feel.
True to life - excellent colour performance and colour management
You will get exactly the result that you see on screen. Cintiq 27QHD displays 1.07 billion colours and a full 97% Adobe® RGB colour gamut and therefore is the creative tool of choice when it comes to any high-end creative production in art, design, image editing, or media from print to 3D animation. Calibrate your display for precision colour matching with the Wacom Colour Manager Powered by X-Rite (solution sold separately). Unlike most colour management solutions, the Wacom Colour Manager sets the colour in both the Cintiq and your computer allowing you to fine tune the colours like never before.
Intuitive - pressure-sensitive pen, multi-touch*, on-screen controls and Radial Menu
Efficiently work with both hands - simultaneously. Cintiq 27QHD enables you to enhance and speed up your workflow, as you benefit from pen, on-screen controls and Radial Menu. Draw, paint, design, and edit directly on screen with the pen, which has 2048 levels of pressure sensitivity and performs like a traditional brush or marker. Enjoy a natural, intuitive, and productive creative experience. Decide on a Cintiq 27QHD touch and you can even pan, zoom, rotate and navigate with multi-touch*. This will allow for you to work even more intuitive and more efficient in creative applications from Adobe® Photoshop® to Autodesk® Mudbox® or Corel® Painter®.
Versatile - wireless ExpressKey® Remote and additional stand options
Cintiq 27QHD comes with the new ExpressKey® Remote. This hand-held set of shortcut keys and Touch Ring lets you focus on your work. Place it anywhere it's most convenient while drawing - on screen, in your hand or beside your keyboard. When combined with the on-screen controls, you have dozens of options to customize your shortcut keys by task or by application.
Enhance your comfort with an optional stand, which allows you to find your most ergonomic personal working position. You have a choice of stands ¬- from the sturdy two-position integrated legs to the optional Cintiq Ergo Stand or 3rd-party VESA arm. The Cintiq Ergo Stand provides multiple possibilities designed to give you the natural feel of working on an easel or drafting table. Adjust it to work best for you ergonomically, whether sitting or standing.
*available with Cintiq 27QHD touch
•Product Type Creative pen display
•Size 770 x 465 x 54.5 mm (30.3 x 18.3 x 2.1 in)
•Weight 19.8 lbs. without stand (9 kg)
55.1 lbs. with stand (25.1 kg)
•Screen Size (Measured Diagonally) 68.6 cm 27 inch
•Technology AHVA LCD (propietary IPS)
•Displayable Colors (maximum) 1.07 billion (Requires DisplayPort and video card supporting 10 bit color)
•Aspect Ratio 16:9
•Viewing Angle 178° (89°/89°) H, (89°/89°) V
•Contrast Ratio 970:1
•Brightness 330 cd/m2
•Response Rate 12ms
•Active Area 596.7 x 335.6 mm 23.5 x 13.2 in
•Color Gamut 97% Adobe RGB
•Industry Standard Pre-sets Adobe RGB, 6500° K whitepoint default; DCI, REC 709, SRGB
•Graphics Input DisplayPort (required for 2560x 1440 resolution), HDMI (depends on computer)
•Multi-Touch No
•Pen Pro Pen
•Pressure Levels 2048, both pen tip and eraser
•Tilt Range 40 degrees
•Tilt Recognition ±60 levels
•Type Pressure-sensitive, cordless, battery-free
•Switches Tip switch, 2 side switches, eraser
•Nibs 10 standard
•Pen Box No
•Pen Stand Yes
•Grip Latex-free silicone rubber
•Model KP-503E
•Technology Patented electromagnetic resonance method
•Resolution 5080 lpi
•ExpressKeys™ 17 customizable on ExpressKey Remote
•Touch Ring Yes, on ExpressKey™ Remote
•Touch Strips No
•Radial Menu Yes
•Precision Mode Yes
•Display Toggle Yes
•Dedicated Pan, Scroll, Zoom, Brush Size Yes
•ExpressKey™ Remote Dimensions 135 x 52 x 10 mm
5.3 x 2.0 x .4 in
•ExpressKey™ Remote Continuous Operation Up to 160 hours
•ExpressKey™ Remote Charge Time Up to 2 hours
•Stand Adjustability Built-in stand (5° w/o legs or 20° w/ legs); optional Cintiq Ergo stand sold as accessory
•Orientation Right or left-handed use
•Size 32.3" W x 20.1" H x 15.4" D
(820 x 510 x 390 mm)
•Cables Included Cables: DisplayPort, HDMI, USB 3.0, Micro USB (ExpressKey Remote); Adaptors: DVI-D TO HDMI, Mini DisplayPort to DisplayPort
•PC And Mac Connection USB
•Display Connection DisplayPort and HDMI
•Peripheral Connections Five USB 3.0 ports
•Power Supply Input 100 to 240 VAC, 50/60Hz
•Power Supply Output 24 VDC, 5.0A (max)
•Power Consumption 80 W, .5 W in sleep mode, .5 W off mode
•System Requirements PC: Windows®7 (32/64 bits), 8
Mac: Mac OS X, v 10.5.8 or later
•What's Included Cintiq 27HD Creative pen display
Pro Pen
Pen stand with 10 replacement nibs & nib removal tool
ExpressKey™ Remote
Cables: DisplayPort, HDMI, USB 3.0, Micro USB (ExpressKey Remote); Adaptors: DVI-D TO HDMI, Mini DisplayPort to DisplayPort
AC power adaptor
Installation CD
Quick start guide
•Certifications VCCI Class B, FCC Part 15 Subpart B (class B) and C, CE, IC ICES-003 and 210, RCM
•Additional Accessories Airbrush, Art Pen, Classic Pen, Pro Pen